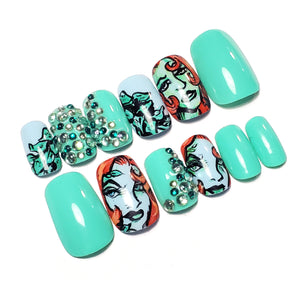 These hand-painted POISON IVY press-on nails will impress any a cosplay fan! These press-ons were created by @tamardilullo for Montreal Comicon several years ago! 
All of our customs press-on nail sets are carefully created by our talented nail artists with the highest quality gel products. These nails can be disinfected and re-used if treated with care! Excellent for events or photo shoots! 
Each set comes with a sheet of glue tabs for quick and easy 1-2 days use! - Free of charge!

SHAPE: Square Short
SIZE: M This style comes with 12 nails for added sizing options
DESIGN: (Unique / One-of-a kind)
FINISH: Shiny
CONDITION: Vintage / NEW Dead-Stock
MATERIALS: Plastic tips with Gel, acrylic paint and plastic and crystal rhinestones.
NAIL ARTIST: @tamaradillulo
NOTES: These nails are hand-painted and any so some level of irregularity is to be expected. 
CONTACT-US if you have any questions or concerns!
Application guides and sizing details available upon request.
Shipping will be calculated at check-out