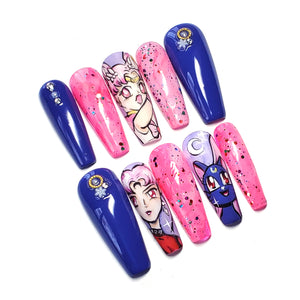 These press-ons are perfect for your favorite Sailormoon collector! These press-ons were a custom-order and were hand-painted by @tamardilullo. Send us a message if you would like to have your own version! 
All of our customs press-on nail sets are carefully created by our talented nail artists with the highest quality gel products. These nails can be disinfected and re-used if treated with care! Excellent for events or photo shoots! 
Each set comes with a sheet of glue tabs for quick and easy 1-2 days use! - Free of charge!

SHAPE: MEDIUM COFFIN
SIZE: custom - send us your measurements
DESIGN: (Unique / One-of-a kind)
FINISH: HIGH SHINE
CONDITION: NEW
MATERIALS: QUALITY Plastic tips with Gel paint, glitter.
NAIL ARTIST: @tamaradillulo
NOTES: These nails are hand-painted and any so some level of irregularity is to be expected. 
CONTACT-US to order this design. Custom orders can take up to 1 week to produce and a min. 50% deposit is required to start work on your set.
Application guides and sizing details available upon request.
Shipping for our nails are flat rate 5$+taxes for Canada and 20$ USD for USA. 
Local pick-up or drop off is available (contact-us)!