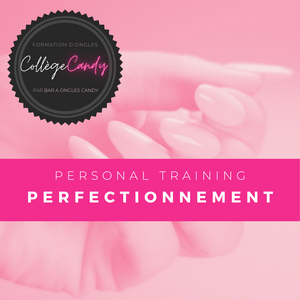 One-on-one coaching with a nail pro! Quickly resolve those technical issues that are holding you back from being truly confident and profitable! Just a few hours with our senior educator can resolve so many issues efficiently. The reality is so many young nail techs are learning on-line or isolated and the eye of a nail educator can be very helpful to assess and address any issues.
You can also use this session to learn new techniques and / or "Nail Art" so Candy is so well recognized. Choose from our specialized techniques:

• Basic manicure (cuticle care, filing, varnish application)
• Gel nails application (prostheses or sculpted)
• Manicure Varnish Gel / Shellac
• Nail Art (Release, Stamping, 3D, Marble, Cartoon etc.)

• Offered online or in person, it's your choice!
• Flexible schedule (weekends and / or evenings too!)
• 48 hours after your purchase we will be in contact with you to plan the development session according to your schedule!